Hi! Thanks for Visiting Adventures in Coupons! I'm so very glad you're here. If you want to be sure you never miss a deal, be sure to sign up for our email newsletter or Follow Us by RSS. You can also Like Us On Facebook and Follow us via Twitter. Not into any of those? We're on Pinterest too!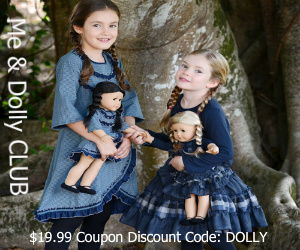 My & Dolly Doll Club! Great Gift for the Princess in Your Life!
This is such a cute "club" and when I saw it, I knew I had to mention it! 4EverPrincess is offering a $10.00 off coupon code toward the first month of their Me & Dolly Club. This is an awesome club that send the little girl it was bought for a dress each month in her size AND one for her Dolly too so they match! I know my Emma would love this but they don't carry her size.
The Me & Dolly Club is the perfect gift for any little girl. It's the gift that keeps on giving! It will run you just $29.99 per month for 12 months! That's a really great price considering what all you get! Plus, if you use coupon code DOLLY, you'll save $10.00 off of your first month!
Whoot! Hurry and sign up though. I don't know when the coupon code will end!